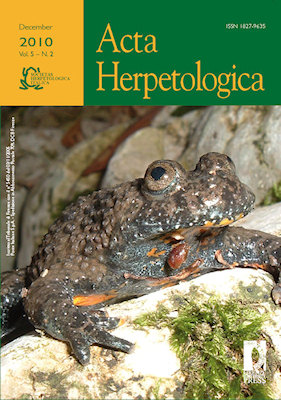 ISSN 1827-9643 (online) ISSN 1827-9635 (print)
Pubblicazione: Semestrale Periodi di pubblicazione: marzo e novembre
Acta Herpetologica è una rivista scientifica internazionale pubblicata per la SHI dalla Firenze University Press. A partire dal primo numero stampato nel 2006, Acta Herpetologica pubblica review e articoli originali che riguardano la ricerca erpetologica di base e applicata e la conservazione degli Anfibi e Rettili e dei loro habitat
Acta Herpetologica è aperta a studiosi di ogni parte del mondo e si pone come nuovo spazio in cui presentare e discutere i più recenti risultati nel campo della ricerca sugli Anfibi e sui Rettili, viventi ed estinti. È la rivista ufficiale della Societas Herpetologica Italica (S.H.I.) e pubblica lavori estesi, lavori brevi e revisioni di libri che interessano la biologia e la diversità di Anfibi e Rettili. I manoscritti devono essere originali e non devono essere stati proposti ad altre riviste. AH è una rivista sottoposta a referaggio, pubblica due fascicoli all'anno con lavori in Inglese e in Italiano.
The journal Acta Herpetologica is published for SHI by the Firenze University Press. First published in 2006, Acta Herpetologica is an international publication, containing critical reviews and original papers on all aspects of herpetology, as well Amphibian and Reptile conservation.
Acta Herpetologica, open to world wide contributing scientists, is primarily aimed at offering a new debate space for the increased interest in living and extinct amphibians and reptiles. It is the official journal of the Societas Herpetologica Italica (S.H.I.), and publishes Full Papers, Short Notes, and Book Reviews dealing with the biology and diversity of amphibians and reptiles. MS should be original and should not be submitted to other journals. AH is a peer-reviewed journal, publishes in English and Italian, two issues per year.
I lavori, preferibilmente in lingua inglese, vanno inviati in formato elettronico secondo le istruzioni presenti su questa pagina. Gli articoli saranno valutati da due referees e, a seguito delle loro indicazioni, la Redazione deciderà se accettarli, rinviarli agli autori con proposte di modifiche o rifiutarli. Di norma la decisione finale è comunicata entro i 3 mesi dalla ricezione del lavoro.
Manuscripts, either in Italian or English, should be submitted to the Editorial Office in electronic format as explained in this webpage. Papers will be evaluated by at least two referees and, following their indications, they will be accepted, returned to the authors for corrections, or rejected. The decision will be notified as a rule within 3 months of receipt.
Direttore responsabile (Editor):
Marco Mangiacotti, DSTA, Università di Pavia, Via Taramelli 24, 27100 Pavia, Italia
Redattori (Assistant Editors):
Adriana Bellati, Department of Earth and Environmental Sciences University of Pavia, Italy
Andrea Costa
Andrea Villa
Chen Wei (Cina)
Daniele Pellitteri-Rosa, Università degli Studi di Pavia, Italy
Daniel Escoriza (Spagna)
Dario Ottonello, Centro Studi Bionaturalistici, Italy
Ernesto Filippi, Sogesid-Ministero dell'Ambiente, Roma, Italy
Emilio Padoa-Schioppa, Università di Milano-Bicocca, Italy
Emilio Sperone, Università della Calabria, Italy
Enrico Lunghi
Fabio Maria Guarino, Università degli Studi di Napoli "Federico II", Italy
Gentile Francesco Ficetola, Université Grenoble-Alpes, France
Giovanni Scillitani, Università degli Studi di Bari "Aldo Moro", Italy
Ilaria Bernabò
Marcello Mezzasalma, Università degli Studi di Napoli Federico II, Italy
Marco Sannolo, CIBIO-InBIO, Universidade do Porto, Vairão, Portugal
Mattia Falaschi
Paolo Casale, Department of Biology University of Pisa, Italy
Raoul Manenti, Dipartimento di Bioscienze, Università degli Studi di Milano, Milano
Reboucas Raoni(Brasile)
Simon Baeckens, University of Antwerp, Belgium
Stefano Scali, Museo Civico di Storia Naturale di Milano, Italy
Zhao Tian (Cina)

I riassunti degli articoli pubblicati possono essere liberamente consultati e scaricati al sito: http://www.fupress.net/index.php/ah/issue/archive
Brief summaries of articles can be accessed by clicking on: http://www.fupress.net/index.php/ah/issue/archive
Acta Herpetologica viene inviata per posta a tutti i soci in regola con il pagamento della quota associativa; l'iscrizione permette di accedere e scaricare gli articoli in formato elettronico.
Le appendici elettroniche degli articoli e le istruzioni per la preparazione sono qui disponibili
Online appendices of papers, and instructions for the preparation of supplementary online material, are available here
Members of SHI are entitled to receive Acta Herpetologica free of charge and have free access to the online version of the journal.

Acta Herpetologica - Instructions for authors
E' disponibile un modello di stile per di Endnote per gestire le citazioni bibliografiche

stile Endnote